Return Policy
We want you to love your purchases from Haggar.com. If you are not fully satisfied with something you have purchased, you may return it within 60 days after the delivery date. To make things easy, Haggar.com even offers return service free of charge. The item must be returned in new condition, with all tags and labels attached, in the original container (whenever possible), and with a copy of your order receipt to ensure credit.
Only products purchased on Haggar.com should be returned. For issues with orders placed on partner retail sites (i.e., JCP.com, Kohls.com, Amazon.com etc.), please reach out to those retailers, if they are unable to assist please fill out our merchandise claim form for any damaged product.
How to return a product(s)?
Select the reason for your return
Retrieve the prepaid FedEx label from inside of box
Place the label on your return package. For tracking purposes, keep a copy of your tracking number
Drop off the return package at any FedEx or USPS location
Visit www.Fedex.com (or www.USPS.com if returned via a US post office) to track your return with the tracking number. If returned via a US post office, visit www.USPS.com and add 92 to the beginning of the tracking number when inputting the number.
Please allow 5 to 10 business days for the refund to be processed. Once the credit has been processed, you will receive an email confirming your refund. It may take up to an additional 3 to 5 business days for the refund to post to your account from that point, depending on your financial institution's policies
Example of the bottom of purchase receipt: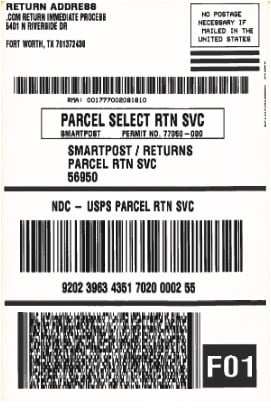 Don't have your receipt or return label?
If you are not in possession of your receipt or return label you have two easy options:
You may log into your account and print a new return label directly from your Order History.
Call Customer Service (877) 841-2219 and they can assist by emailing you a new return label.